How can KLIKER Help you During Holiday Season?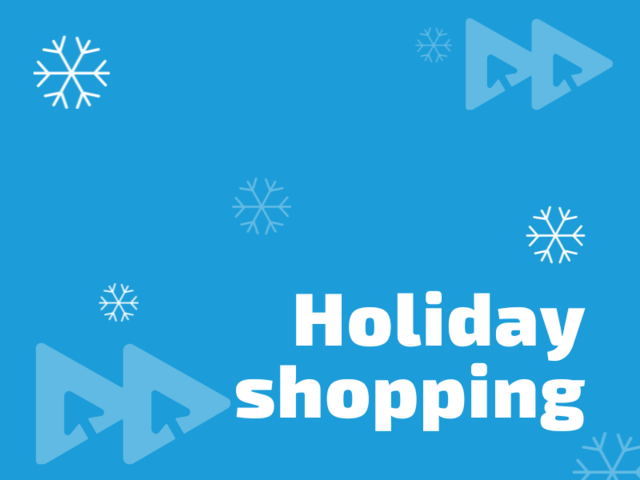 Black Friday is behind us, but the intense period for retailers (and customers) is still underway, so we prepared some tips on how to use the resources provided by KLIKER to achieve the best results in the following weeks.
1. BRANDS
A goal that most (if not all) brand managers have is brand visibility in terms of exposure a brand enjoys in relation to its competitors and its industry.
Higher brand visibility can be achieved through product listing on eCommerce websites. The following steps are promotions and product placement. Product placement is a form of advertising in which brands place their goods or services into different types of content that target a large audience. It can directly demonstrate a product, and its logo, or mention the product in the context. Through promotions, i.e., discounts, we can create buzz and increase interest among our audience even more.
How to follow your brands' visibility through KLIKER market?
By using:
Display share (a.k.a. Digital shelf share)
Display position count
Brand portfolio count
DISPLAY SHARE
For example, the picture below is showing the percentage of products (in this case TVs) of a certain brand Emmezeta (retailer) has in its portfolio.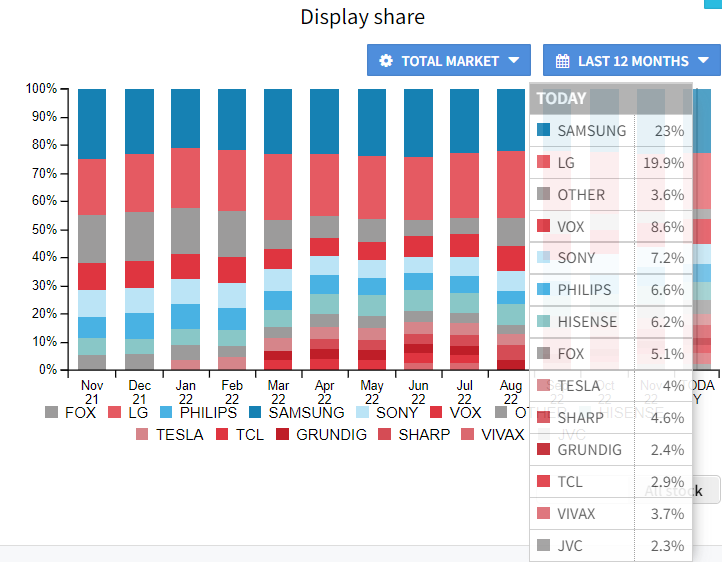 Comparisons:
YoY comparisons (year-on-year) – digital shelf share data for the previous month compared with data for the same month the previous year
MoM comparisons (month-on-month) – comparison of data by month, for example, comparison of data for November with data for October
In KLIKER market, you can compare the data for the total market (all retailers in scope for the selected markets) or for each retailer separately.
DISPLAY POSITION COUNT
Display position count is actually a representation of the previous Display share graph (which is displayed relatively in %) in absolute form. The chart in the picture below shows us the number of digital positions of brands in Emmezeta.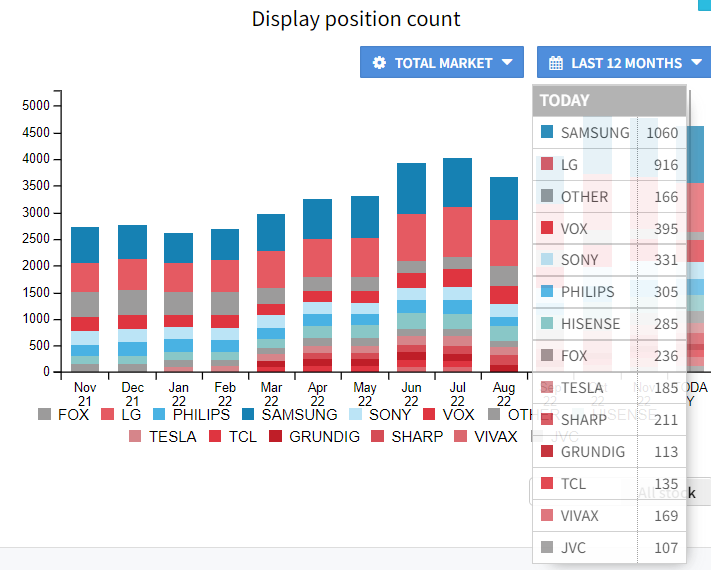 BRAND PORTFOLIO COUNT
If we want to analyze more deeply each of the retailers on the market, we use this graph to view the exact number of SKUs per brand in their offer.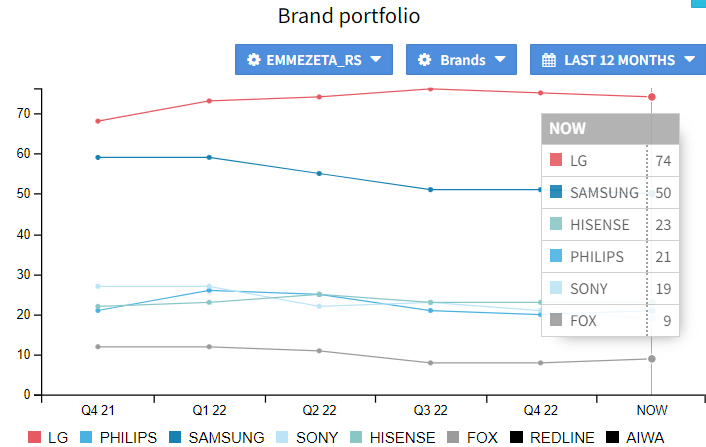 2. DISTRIBUTERS
After they have acquired goods and created stocks, primary goal of every distributor (wholesaler) is to ensure maximum channel coverage with products from their portfolio. Stock turnaround is a key KPI for distributors/wholesalers, so tracking availability in the channel is one of the key tasks.
How to track channel coverage with KLIKER market?
If we enter the KLIKER market and select Alerts tab in the left sidebar, then Stock change from the tabs on the screen, a list (shown in the picture above) will be shown in which we can filter the specific brand and retailer for which we want to see data. The list is showing all stock (availability) changes, meaning that a product will appear on the list if the stock level was different in the last two data imports in KLIKER. A green or red dot will be shown in the 'Availability' column to mark the change.
A green dot is a sign that the selected retailer has the product currently available, but it was not available during the previous data import
A red dot will let us know that the product is not available at a certain retailer, but it was available during the last data import.

One more KLIKER market feature that can be used for availability (stock) tracking is My Market search.
The picture below shows us the list of products that the selected retailer (in this case ekupi) does not have in stock, but other retailers do have it.
This view can be useful to distributors to assess retailers with the opportunity to purchase more products. For example, retailer ekupi does not have product A (marked in blue), but since only elipso currently has it, this product is probably EOL or old stock. But, ekupi also doesn't have product B (marked in red), which is available at several retailers, which would mean that maybe they should consider listing it. This is a signal to the distributors to approach to ekupi with the product B offer.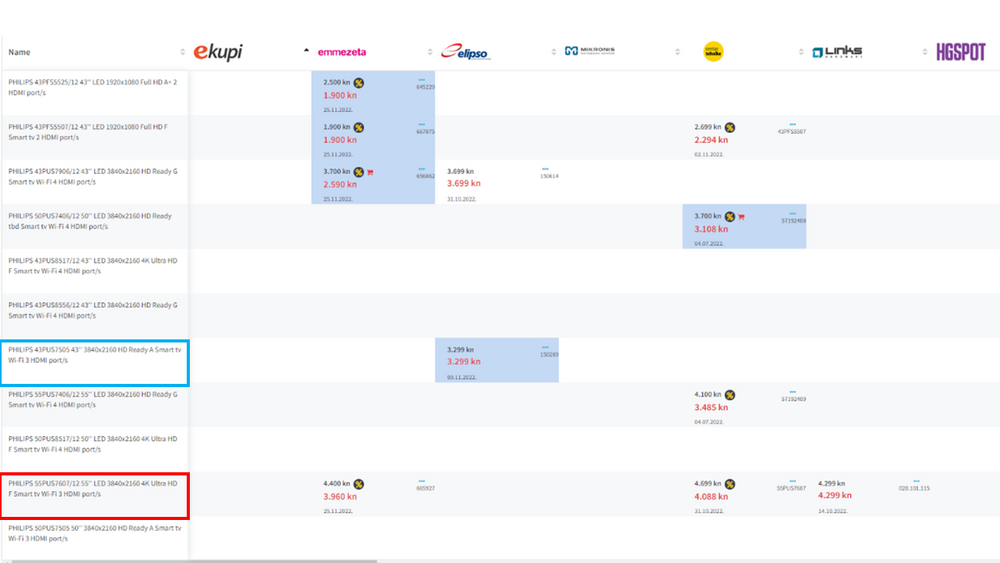 3. RETAILERS
When retailers purchase goods from a distributor, the usual steps are: to compare end-user prices on the market, monitor the levels of their own stocks, but also the availability of others, and assess purchase prices before making a final decision. All this leads to the main goal: to be competitive and to achieve planned sell-outs toward end-customers.
How to monitor competitors with KLIKER market?
In a few clicks, we can observe our competitors, their stocks, prices, promotions and other parameters.
Price comparison
Offer comparison
PRICE COMPARISON
In order to get a price comparison table, enter the My Market screen and set the desired retailer in the filter, then set the other two filters: PROMOTION (switch to 'Only') and LOWER PRICES (switch to 'Lower') and click 'Search'. For example, if we are Emmezeta we will go to My market and in the filter 'Retail' we will choose Emmezeta.
The result is in the picture below, where we can see all our products on promotion at which our competitors have better prices than us.
Now that we know this, we can correct the price or invest in the promotion of selected products, so we can become more competitive in the market.
OFFER COMPARISON
A useful piece of information is the comparison of own offer in relation to the main competitors.
Page: Dashboard, graph: Display position count
When you filter the 'Total market' to one retailer (that is, your biggest competitor), you will get information on the number of products of certain brands that that retailer has listed
In this way, you can compare your competitor's SKU count with your own SKU count and see if you need to increase the SKU number of a certain brand, to be more competitive.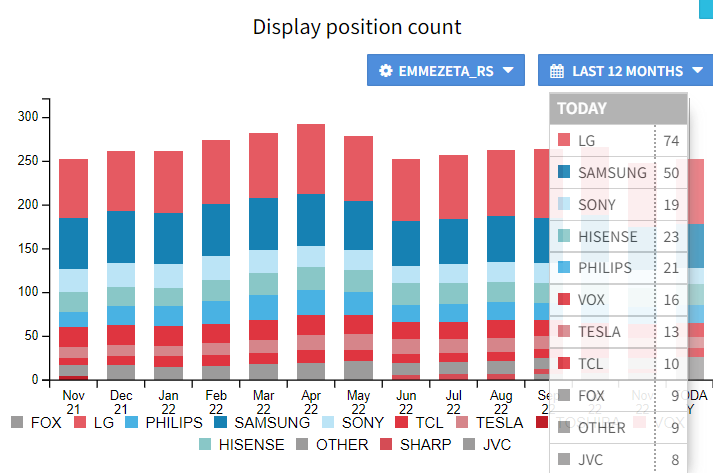 In order to be as competitive as possible through this intense period full of promotions and increased demand, we must constantly monitor the prices of our competitors on the market, the promotions they offer, the stocks they have, how they advertise, and many other details that have an impact on customers' decision-making process.
In KLIKER we can do all that in one place.
Use your KLIKER market login credentials:
If you do not have a KLIKER market account yet, contact us and we will create a demo account for you promptly.